In this article we are going to talk about shopping safely online and the steps you need to take to ensure your financial information stays private. With the onset of online scams, which can be perpetrated through email, text, social media and on shopping websites themselves, it's vitally important that individuals are aware of the precautions they need to take.
Here, at Croí Laighean Credit Union we regularly talk to our members about the importance of online safety, particularly when it comes to divulging any private financial information. It is with this in mind that we have compiled a list of tips for you to follow.
Let's take a look at the best ways to stay safe when shopping online:
Use Trusted Websites:
Only use websites you can trust when shopping online, if you're unsure, we would always recommend using Trust Pilot, which will give you a strong idea if the site is legitimate. When you are searching for something in particular, we recommend staying on the first one or two pages of the search results. The further you stray from the top results, the more likely you are to come across a dubious website. Also, look out for brand names that are misspelled or have questionable domains, for example, an unreliable site may be using a ".net" or ".org" instead of the recognisable ".com" or ".ie".
Look for the Security Symbol on eCommerce Websites:
When using an eCommerce website (online purchases), you should always see the lock symbol displayed next to the website address in the address bar. This lock icon indicates that the website has SSL encryption enabled (which means it is secure to use). When a site is using the old http structure, this means the website may not be secure.

Check Reviews before Buying:
As with all purchases, it's important to get as much feedback as possible before you decide to spend your hard-earned cash. When buying online, this is particularly important. Not only do you want to know that the company has a strong reputation for their products, but you also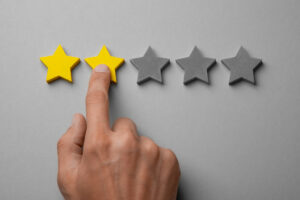 want to know if their website is reliable or if it has been involved in any dodgy dealings in the past.
A quick search of the company name with 'reviews' in the search bar, should tell you everything you need to know.
Strengthen your Passwords:
As well as creating strong passwords, we would also recommend that you change all of your passwords on a regular basis, particularly those that store or use your credit or debit card details. Users of smartphones, tablets and more modern laptops, will find that the device will create super secure passwords for you and store them for future use. With the onset of digital recognition software, we can now also use thumbprint validation and facial recognition software to secure our purchases. It also goes without saying that you should never write your passwords down, or store them in written form.
Is Free WiFi really Free?
Whilst most of us at one time, would have jumped at the chance of a free WiFi connection, it's important to realise that free WiFi may come at a cost. Most of these open networks are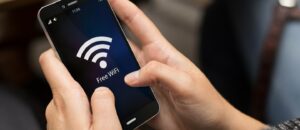 unsecure, meaning anyone can access the network at any time. In a time where mobile data is included in most phone plans, both pre-paid and billed, we would recommend avoiding free WiFi in areas you are not familiar with.
Use your Phone or Watch to Pay for Purchases:
Pay for purchases using your phone, smart watch or tablet instead of using a physical card. All smart devices now allow you to store your credit card details, which are fully encrypted for secure online and instore shopping. Simply tap with your phone instore, or use Apple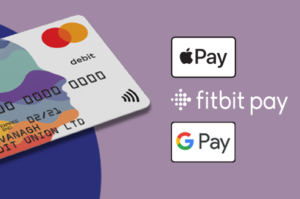 Pay, Google Pay or FitBit Pay to purchase online. A once-off authentication code will be generated by your device, meaning that transaction is unique and cannot be used again elsewhere.
Did you know that at Croí Laighean Credit Union, our current accounts now support all of the above mentioned payment options?
Share Minimal Information Online: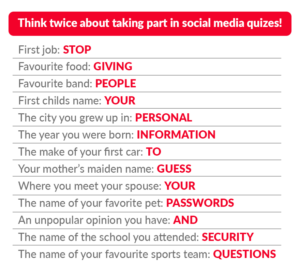 Have you ever spent time scrolling through your favourite social media site only to be encountered with what seems like a harmless survey, game or quiz? They may ask you for information that seems pretty innocuous, however this data can be used to directly access your online information. Couple this information with your email address – which is normally freely available on your social media accounts – and you have all of the ingredients needed to reset your password! We would recommend changing your settings on social media to ensure that only those closest to you can see your personal information, such as date of birth, email address, maiden name etc.
Don't click on links from unknown Sources:
Should you receive a link or an attachment you're not expecting from an unknown or dubious source, do a thorough investigation before opening or clicking the link. It is possible to see the source of the link by simply right clicking or hovering over the link with your mouse. The anchor text may be vastly different from the link attached to it! Let's take an example: You receive an email from a courier company, claiming they have a parcel to deliver to your home, the anchor text reads the companies name, however the link itself is pointing to a malicious website that could cause harm to your device or install malware or spyware on your computer.
Always be aware, and share your awareness and knowledge with those around you to avoid online scammers from stealing your identity and your hard-earned money!