Your wedding day is a day of romance, love, friends and family and all things optimistic and beautiful. But, as almost all couples can testify, wedding prep can be fun stuff and create some great memories, but weddings are expensive and there's still no getting away from the nitty-gritty of the wedding budget. If you're planning a wedding, talk to us about our great value wedding loan.
While the main idea is to have a day to celebrate and reflect you and your partner, it can be difficult to juggle all the different costs to make it happen. From guest lists, and wedding venues to what drink you decide to toast the night away to, the planning and details can all add up. So, we have put our thinking caps on and put together a list of Money-Saving Wedding Budget Tips to help you get the most for your money…
Our top tip? PRIORITISE. Before starting the planning process, sit down with your partner and determine what elements of your wedding day are most important to you both.
Are you total foodies? Go big on the catering.
Are you all about the style? Then the dress and décor are your big spend point.
Maybe music is more your thing? Make sure to get that band and DJ you have been dreaming about.
Remember, it's your special day so spend on what is important to you and cut the costs on things you don't mind too much about.
1. Be Flexible
Some wedding venues offer deals for mid-week weddings, as well as off-season dates (November, early December, January & February).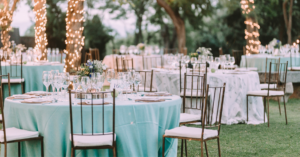 These options are often less expensive, not only for the wedding venues but for the vendors too! Contact any possible wedding venue choices and ask about their different options and availability. Also, think ahead and save yourself money by picking a venue with interesting décor you love and that suits the kind of wedding you would like. The less you must "decorate", the more you will save on the little bits and pieces.
2. Cut the Guest List
Not the most fun thing to do, but if you are serious about saving, the number one thing you can do is cut the number of guests you're having (and talk to us about our wedding loan!). The reception (venue, food, drink) is going to be about 50% of your budget so if you want to cut costs, cut the head count. You can always invite people to the afters if you would like to include them. The good news is that these days, people are more accepting of small guest lists than they were years ago.
3. Be Mindful of the Little Things
Little details such as invitations, decorations and wedding favours can add up quickly. Consider skipping these extras or finding alternatives. This may seem controversial, but many people opt for a simple email invite. This can be sent out using Mailchimp which will allow for automatic RSVP and you can see who opened it too! Alternatively, you can find free or cheap printable options for lower-priority stationary items such as save the dates, ceremony booklets, menus, table plans/ numbers, signage etc. We recommend CANVA for this as it's a cheap and easy-to-use application which allows you to personalise your wedding scheme.
4. Don't go (Too) Crazy on the Décor
Don't get too overwhelmed by jam jars and bunting and taking on the DIY challenge if you're not creative. Instead, pick one area of your wedding that you can DIY, such as favours, ceremony booklets, or cake. Involve your family and friends to help this will make memories along with saving money, stress, and paper cuts! When buying wedding décor, consider whether you want it as a permanent fixture in your home or will it be dumped in the garden shed. If it's something you're going to treasure, then it's a good idea and our wedding loan can help finance. If it's just clutter, then consider hiring, borrowing, or just doing without.
5. Keep the Menu Simple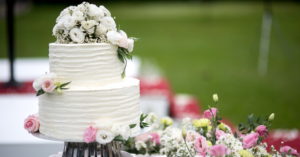 If you're having a more relaxed wedding day, why not opt for a buffet-style meal or even a BBQ? Informal dining has become more popular these days, and the options have become a lot more sophisticated. In general, less course equals less cost. If you are going for the formal sit-down style menu, consider asking your guests to pre-select what they wish to have as a meal on the day. This allows your venue to have an exact number of dishes that are needed on the day – this will limit the cost as venues generally need to over-supply when the menu has a choice. Alternatively, have a set menu, or have a set starter and dessert but offer the option for the main course.
If a tall traditional work of art is your idea of a wedding cake but you don't have a budget, then an easy trick for creating the illusion on a smaller budget is to include some fake layers to make it more impressive. Talk to your wedding cake baker- they know this trick well and no one will know the difference! Another idea is to see if you have a baking buddy – many people immersed themselves in baking during Covid, and you may be surprised to find you have a secret Pâtissier in your midst.
6. DIY Music
Although live music and a professional DJ sounds like a good night, if the budget isn't there you can always nominate a friend to deliver your DJ set or compile a playlist on Spotify. When sending out the invites you might consider asking your guests for their favourite song which can be then added to the playlist. Just make sure to get in touch with the venue regarding any technical difficulties in advance.
7. Save on Your Drinks!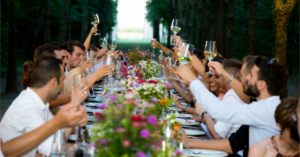 Instead of offering a drink for a toast, just keep the wine flowing- people won't notice the difference at the time, and you will notice the difference on the bar bill! Consider asking your venue if they offer a corkage fee which will allow you to bring your own wine, which will certainly cut the bill in half. Corkage is one of those things you can negotiate with and you can pick up some serious deals on wine after Christmas.
8. Don't be Afraid to Haggle
A wedding is worth a lot to a venue. You must pay for the food and drinks, and your guests will most likely stay in the venue if it's a hotel. Your guests will also keep the bar ticking over so a wedding is quite profitable for a venue. Remember, you are able to negotiate. You may not get much of a discount on food and drink, but you can haggle on such expenses as room hire, chair covers, and table decorations. Price around, and if you have the venue of your dreams, use the other quotes to try and get a discount. Don't be afraid to ask… they can only say no!
9. If you're borrowing, talk to us
As we have ascertained, weddings are expensive, and you may need to borrow to tide you over. Our Wedding Loan has no hidden charges, and we don't charge a penalty for early repayment. We offer Flexible terms on our wedding loan, with quick decisions to allow you to focus on planning your dream wedding!
We also have a range of other loan products that you may need to consider after your nuptials – such as a mortgage, new car, or even a home improvement loan to get a bedroom ready for a new arrival! Click here to find out more about our range of loans and which loan will best suit your needs.