Irish Credit Unions, including Croí Laighean Credit Union, operating under the currentaccount.ie brand have seen off stiff international competition to land the coveted New Credit Union Services Organisation (CUSO) of the Year award for 2021 at the NACUSO 2021 Network Conference held in Las Vegas.
It is the first time that any CUSO outside of the U.S. has been recognised with this award and it is a testament to the collaborative efforts of the credit unions involved.
Speaking at the announcement of the award, Jack M Antonini, President & CEO, NACUSO said:
'NACUSO's core purpose is to be the catalyst for instituting collaboration, innovation, and the reinvention of the Credit Union industry. We had a very compelling group of nominees this year but currentaccount.ie's pioneering work on the collaborative model in Ireland, helping your credit union partners to offer expanded services, consistent value to your credit union partners and growing impact separated it from the others'.
Seamus Newcombe, CEO of currentaccount.ie said:
'Credit Unions in Ireland have recognised that collaboration is the only way the credit union movement, as we know it, will thrive in the new digital age. We are very proud to be awarded the title of New CUSO of the Year, and we appreciate NACUSO's continued efforts to help transform the credit union industry.
With the current upheaval in the Irish banking landscape, this award will come as a timely reminder to account holders looking to switch that, through the currentaccount.ie brand, Credit Unions now offer a market leading current account service'.
To learn more or open a current account with Croí Laighean Credit Union, please visit https://www.clcu.ie/links/current-account.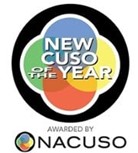 About us
Croí Laighean Credit Union now has over 40,000 Members in our Common Bond which stretches from Rhode, Co. Offaly in the West to Leixlip, Co. Kildare in the East. We now have 6 branches: Edenderry, Coill Dubh, Clane, Leixlip, Allenwood, and Prosperous.